What if there was an easy way to help your child develop essential skills they will need for the future and still have fun this summer?
If you're like most parents, this summer you want to see your child playing and enjoy being a kid.
But you're worried.
Will they fall behind the other kids this summer?



Are they prepared for the next grade?



What has been the effect on their learning due to the unprecedented crazy last few years of school?
Children need to learn how to think not how to take more tests.
Dear Frustrated Parent,
You want the best for your child but you may be frustrated with your child's current school or learning experience.
Unfortunately, schools today are not helping prepare our children for the future.
Kyung Hee Kim, a creativity researcher at the College of William and Mary, found:
"Since 1990, children have become less able to produce unique and unusual ideas. They are also less humorous, less imaginative, and less able to elaborate on ideas, Kim said."
With a focus on standardized tests and one-size-fits-all curriculums, our children are missing out on learning how to think, and how to be a problem-solver.
Why is creative thinking important?
According to the World Economic Forum, creativity will be the third-most-important skill for employees.
"With the avalanche of new products, new technologies, and new ways of working, workers are going to have to become more creative in order to benefit from these changes."
Our children will grow up to solve future world problems. In order to do so, they need to be innovative thinkers and creative problem solvers.
But schools are teaching our children the skills of the past, it doesn't matter the latest tech app or coding program. But rather our children need to know the steps on how to solve a problem and how to find answers and create out-of-the-box solutions.
So as a parent what can you do?
While we may not be able to change the educational system overnight you can start taking the steps to introduce these essential future skills to your child.
And you don't need to be trained as a teacher. You can do this because if we don't start teaching our own children these essential skills they will be left behind in life.
You might be thinking, "but I'm not a teacher."
You are your child's first teacher and have been "teaching" them since birth. You don't need credentials to start teaching your child valuable life skills.

As our world moves faster with technology, we can't predict what the future will look like for our children. But you can help prepare them and give them the skills they will need to be successful, such as creativity, critical thinking, communication, and problem-solving.

Our children will need to know how to solve problems and create unique solutions to help the future advancement of our global society.

Summertime is the perfect time to work on developing these skills that many times are lacking in today's education system.
But what if I'm not creative or crafty?

We are all born to create! You were born a creator. You create every day in your thoughts, beliefs, and what you do.
Creative thinking is not just for artistic types. Painting or playing a musical instrument isn't the only way to express your creativity. Instead, you express your creativity in everything you do, from getting dressed for the day to deciding what's for dinner.
Plus, we make it easy for you as the parent with our step-by-step process through each camp, so there is no need to be crafty or Pinterest-perfect.
I don't have time to "teach" my child.
I get it. As a busy mom of three kids who runs her own business, I understand being busy. But what if there was an easy way to connect with your child, build their self-confidence, and explore their passions without boring online Zoom classes?
What if you could connect with your child and help develop their creative and critical thinking skills without zapping your energy?
Innovation Kids Camp is a virtual self-paced learning experience with different fun-themed camps.
Choose from exciting camp themes such as Fairy Camp, Superhero Camp, and Doll House Camp. Each innovation learning camp is designed using our unique framework that combines creativity, innovation, and hands-on fun, all while from the safety of your own home.
Hi, I'm Jamie.
Innovation Learning Expert
As a certified art educator, I noticed that my students could follow directions and guides on activities, but struggled to think critically and creatively. On my very first day in the classroom, I had a hands-on style lesson prepared and was shocked to find my students didn't know what to do because they had never experienced an open-ended project. That's when I threw out everything I know about teaching.
For the past eight years, I have worked with hundreds educators from all over the world to help bring change to education at all levels because it's so important to teach students at any age to think critically and find their own voice.
Innovation Kids Camp will help your child:
Develop future-ready skills.
Innovation Kids Camps are filled with activities designed to develop your child's future-ready skills such as;
Creative thinking
Critical thinking
Creative problem solving,
Communication
Building self-confidence
Learn how to think not what to think.
Did you know engineers and designers follow a process to help them create unique solutions, just like scientists follow the scientific method to make discoveries?
Inside each Innovation Learning Camp, we'll help you guide your child to learn the problem-solving steps to be an innovative thinker and creative solution-seeker.
Build Self-Confidence.
We need to teach our kids that it's okay to fail, that it's okay to take risks, and that there can be more than one "right" answer.
Learning is a process or a journey. It is not an outcome. You don't stop learning once you're out of school.
Discover unique talents and passions.
Innovation learning camps are a time for kids to explore what they like and don't like. Through open-ended exploration, kids can grow to discover their unique talents, gifts, strengths, and passions so they can help serve our world.
Imagine Your Child:
✔️ Being able to persevere any challenge that arises.
✔️ Having the self-confidence to create new and unique solutions and be a creative problem-solver.
✔️ Understanding that learning is a life-long journey and excited to learn more about their passions and interests.
Imagine As a Parent:
✔️ Understanding how to support your child's unique talents and passions.
✔️ Knowing how to help develop your child's creative thinking and problem-solving skills even if you don't consider yourself creative.
✔️ Being able to develop a deeper connection with your child and celebrate their strengths as a learner and creative thinker.
*Superhero cape optional.
Innovation Kids Camp combine hands-on fun with self-paced learning at home.
Each innovation learning camp is designed based on a kid-friendly theme and consists of five different innovation challenges that you can move through at your own pace.
All videos and tutorials are recorded so you can implement it when it's convenient for you and your family's schedule.
It's learning on demand when it works for you and your child.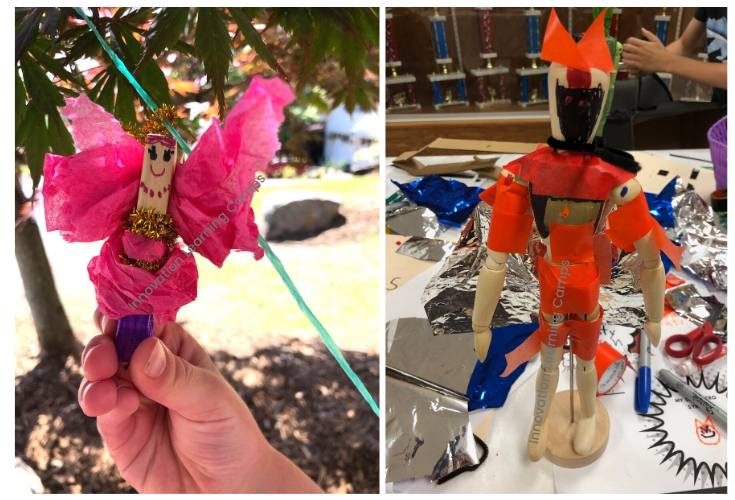 Choose your camp:
✅ Fairy Camp
Build and design your own magical fairy and take your fairy on an adventure as you build, create and design fairy houses, zip lines, gardens, and more.
✅ Superhero Camp
Design your own superhero with special superhero powers. Use your superhero to help solve new challenges and showcase your superhero's strengths and talents.
✅ Doll House Camp
Design and build your own dollhouse plus create miniature furniture and your very own dollhouse family.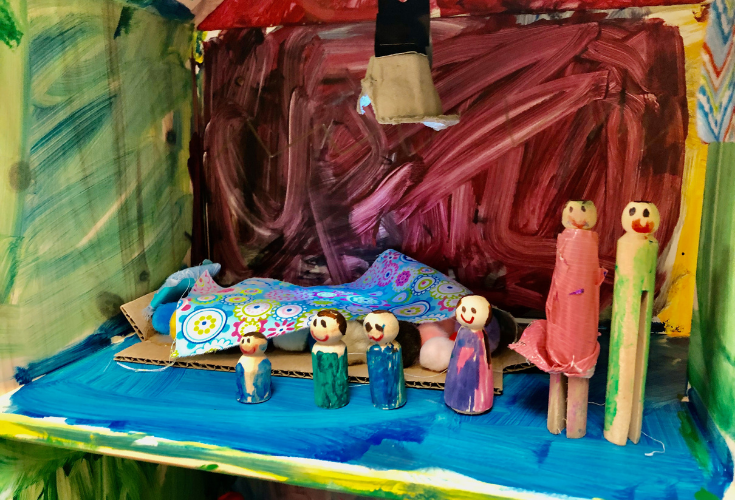 Each Themed Camp includes:
Five Innovation Challenges
Five Exploration activities
Plus five more additional bonus activities.
Each activity walks you Step-by-step through the activity with video and photo tutorials.
BONUS: Access to our video training that explains our signature Mind-Body-Heart Framework to help develop problem-solving skills.
Step 1: Log In
After purchasing you may log in and you have instant access to your camp. You may get started right away.
Step 2: Pick Your Challenge
Watch the introduction video. Gather your materials and supplies.
Step 3: Innovate
Design, make and create your own innovative solutions to each camp challenge. Have fun!
THE INNOVATION KIDS CAMP METHOD
Our unique framework, the Innovation Kids Camp Method, will give you the exact steps on what to do and how to do it.
Pillar 1 - Innovative Parents Guide: We walk you step by step to help you guide your child through the camp.
Pillar 2 -Choose Your Challenge: Each Innovative Challenge is specifically designed to spark your child's imaginative and creative problem-solving skills.
Pillar 3 - Design Innovative Solutions: Watch your child design, create, and make their own unique solutions.
Money-Back Guarantee
There's absolutely no risk to join. Our 7-day money-back guarantee backs every purchase. So you have seven days to try out the Innovation Kids camp once access begins on May 1st, 2022.
Simply let us know during the first seven days from your initial purchase or by May 7th, and we will refund your entire fee.
What Other Parents Have Said:
Birute, Parent
This is great for a parent who thinks creativity is not their best feature (even though I think everybody are creative at some level) and they can't help much a child who want to do a craft at home. Jamie will take care of it. Her clear instructions on the video makes it very easy for a child to understand and follow up with everything.
Lori, Parent
Thank you so much for the fun.
He had a great time!!
Jenn, Parent
Doll house camp absolutely did not disappoint - as we knew it wouldn't! Our little budding art teacher loved it! We're proud of our daughter's creation and hard work! Thanks, Jamie for taking this on!
Frequently Asked Questions
How long do I have access to the camps?
What if we have to miss a day of camp?
What supplies will I need?
What ages will this work for?